PRODUCTS
Alluxity
Artesania Audio
Auralic
Aurender
Eden Acoustics
Ediscreation
EgglestonWorks
fidata
Hanss Acoustics
Heco
Hegel
Holbo
Klangwerk
LINDEMANN
LUMIN
M2TECH
Manger
SOTA
Stenheim
Unity Audio
Viard Audio Design
Weiss
XTZ
INTRODUCING LUMIN.
THE WORLD'S FIRST UNIVERSALAUDIOPHILE NETWORK MUSIC PLAYER!
BRINGING EVERY DIGITAL MUSIC FORMAT TO LIFE.
AND PUTTING YOU IN TOTAL CONTROL.
DIGITAL OUTPUT & BALANCED ANALOG OUTPUT. 
SPECIFICATION

STREAMING PROTOCOL:

UPnP AV protocol with audio streaming extension
Gapless Playback
On-device Playlist



SUPPORTED AUDIO FILE FORMATS:



DSD LOSSLESS:

DSF (DSD), DIFF (DSD), DoP (DSD)

PCM LOSSLESS:

FLAC, Apple Lossless (ALAC), WAV, AIFF

COMPRESSED (LOSSY) AUDIO:

MP3, AAC (in M4A container)



SUPPORTED AUDIO SAMPLE RATES, BIT DEPTHS, NUMBER OF CHANNELS:

PCM, 44.1khz - 384kHz, 16 - 32bit, Stereo
DSD, 2.8MHz, 1bit, Stereo



INPUT:

ETHERNET NETWORK 100BASE-T
USB STORAGE, FLASH DIRVE, USB HARDDISK



OUTPUTS:



ANALOG AUDIO:

XLR balanced, 4Vrms, pin 2 Hot
RCA unblanced, 2Vrms



DIGITAL AUDIO:

BNC SPDIF:

PCM 44.1khz-192kHz, 16-24bit

HDMI:

PCM 44.1khz-192kHz, 16-24bit
DSD 2.8MHz, 1bit



ANALOG OUTPUT STAGE:

Wolfson WM8741 DAC chips, 1 per channel
Fully balanced layout with high quality components
Output connectors coupled with LUNDAHL LL7401 output transformer



PHYSICAL:

LUMIN (SOLID ALUMINUM CHASSIS):

350mm (W), 345mm (D), 60mm (H), 8kg

DUAL-TOROIDAL PSU:

100mm (W), 295mm (D), 55mm (H), 2kg



POWER CONSUMPTION:

Operation: 20W
Standby: 15W



OTHERS:

Firmware Upgradable for further features and enhancements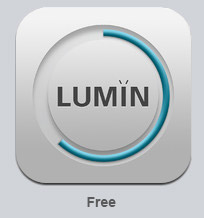 DOWNLOAD LUMIN APP
SUMMARY:
All LUMIN control is achieved through the LUMIN App. We've created it in harmony with the LUMIN hardware to deliver the most intuitive and visually rich way to browse, select and play your music collection.
The recent transition from physical music to digital collections hasn't always retained everything we value in the tactile and stimulating process of music selection. we know how precious music is; that the artwork and album structure are important parts of the browsing and selection process; and we know that filenames, codecs and data can sometimes get in the way.
The LUMIN App introduces the beginnings of our vision for music browsing and covers the basics. Many updates are planned, and will make music selection even easier.
HOW TO USE:
The LUMIN App is designed to be intuitive to use without any training. Most users just download the app and start playing.
LUMIN QUICKSTART
TYPICAL NETWORK CONFIGURATION: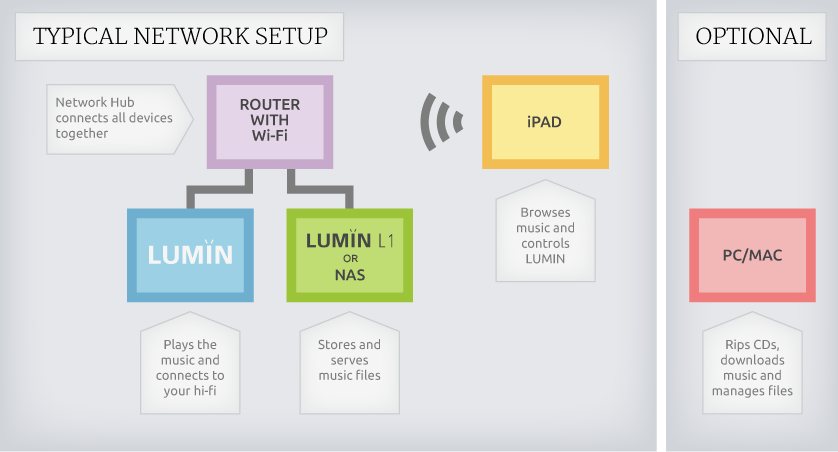 The following components are required for a typical configuration of a LUMIN system:
LUMIN Audiophile Network Media Player.
iPad running LUMIN iPad App.
Home Network including Wi-Fi connection.
NAS (Network Attached Storage) including UPnP server (QNAP or Synology are recommended).
Computer (optional) used for ripping CDs, downloading music and configuring the NAS.
Amplifier and Loudspeakers.
GETTING STARTED:
Connect LUMIN and the NAS to your network using Ethernet cables.

Make sure your iPad is connected wirelessly to the same network.

Connect LUMIN to your Amplifier using your preferred Audio Connectors.

Connect the LUMIN Power Supply to LUMIN and your Power Outlet.

Turn on all devices.

Make sure there are some music files in the correct folder on your NAS (often called 'Music').

Make sure the UPnP Media Server is started on your NAS. Instructions can be found on the websites of your NAS manufacturer. For example: 

Synology instructions

 and 

Qnap instructions

.

Start the LUMIN iPad App and it will automatically detect your UPnP Media Server and your LUMIN Audiophile Network Music Player.

If you have multiple LUMIN units or multiple Media Servers, you can choose these from the App 'Settings' menu.

Your music selection will now display in the main LUMIN App browse window where you can now select music to play and create playlists. See 

'The App'

 page for further information and instruction.

REVIEWS
Conclusion. This Chinese newcomer is set to radically alter the current hierarchy of dedicated audio computer solutions. It's the first if its kind that had me seriously contemplate to permanently switch to virtual media without any compromise in sound quality. The Lumin outclassed the very best CD/SACD transports where it could have safely stopped and grinned. But it pushed onwards and up by opening the doors to what for me was the most exciting audio experience I've yet had: DSD streaming? To complete the picture, the Chinese streamer also offers a very convenient iPad UPnP app that found itself highly appreciated by many diehard Linn users.

In short, this DSD streamer outclassed anything I've heard at home or beyond. Whilst I dislike such expressions, it proved to be a keen Linn killer. About 10 listeners who heard my loaner sold off their Linn streamers to buy the new kid in town. A few prerequisites like configuring a NAS with Minimserver are mandatory and will call for minimal IT skills from the installer or user. It's no harder than any other streamer setup except perhaps the Squeezebox which remains the king of easy. Beyond its outstanding sound quality, the Lumin also gets the most elevated marks for user-friendliness, aesthetics, versatility and evolutionary capacities – not bad for the maiden release from a rising Hong Kong company I'm sure we'll be hearing a lot more of in the near future! My experience with it became such a personal enjoyment that it proved impossible not to convert my loaner into my new digital reference. Considering the nearly unbelievable price/performance ratio, I give it a most enthusiastic award!

Conclusion

The Pixel Magic Lumin network player is the most polished network player I've ever used. The sound quality is exquisitely analog much like spinning a vinyl album. Lush and vivid are terms that describe the sound of music streamed through the Lumin player. What makes this player so polished is the terrific design and implementation of its software. This is a DLNA renderer / DAC and that's all the device is designed to accomplish with its embedded Linux operating system. Playback of high resolution PCM and DSD files is a breeze. Gapless playback that eludes so many players in this category works flawlessly with the Lumin. The iPad control point application is intuitive and simply works every time. Lumin is the network player by which all others should be judged. A definite leader on the Computer Audiophile Suggested Hardware List .